You can now apply to study at the Cape Peninsula University of Technology (CPUT) in 2023.
Mastering the technology required to send a satellite into space, saving lives with your specialised knowledge of emergency medical care or designing a fashion collection – Come create your future with CPUT!
Cape Peninsula University of Technology offers a variety of courses including short courses.
Faculties
Applied Sciences
Business and Management Sciences
Education
Engineering and the Built Environment
Health and Wellness Sciences
Informatics and Design
Campuses
Athlone Campus
Belville Campus
District Six Campus
Granger Campus
Mowbray Campus
Wellington Campus
The admission requirements for the 2022 Grade 12 learners will be based on their Final Grade 11 marks only, together with any additional programme specific requirements (where applicable). Final acceptance to the programme will still be based on the Final Grade 12 results.
Students who applied with their Grade 11 marks must submit a certified copy of their final Senior Certificate or equivalent qualification marks at the beginning of the 2023 academic year.  Students who do not submit their final marks will lose their provisional acceptance.
How To Apply
Choose a qualification and special requirements
Gather your documents or upload further/ outstanding documents
Online application (should you not choose to apply manually)
Get an application form (should you choose to apply manually
Forms can also be collected at the Registration and Applications Office on the various campuses.
No manual posted or over the counter applications will be accepted for normal RSA applicants.
Pay the application fee (manual applications only)
Send in your form and documents (manual applications only)
Application Fee
An application fee of R100 needs to be paid if you applied manually.
You can pay using the following methods:
Cash payments, which can be made directly at the Cashiers' Office on your preferred campus.
You can make a bank deposit, using the bank details below: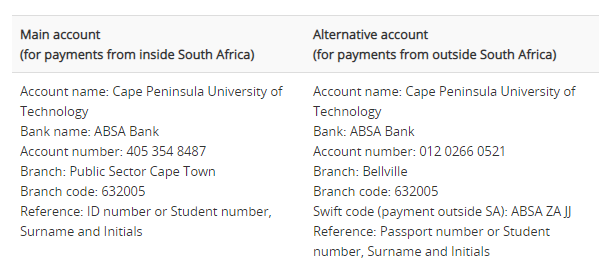 A crossed postal order or crossed, bank guaranteed cheque made out to Cape Peninsula University of Technology.
Track Your Application Status
CLICK HERE TO TRACK YOUR APPLICATION
Successful candidates will be notified by SMS of their acceptance to the institution. You will be informed of