Emma Bowen Foundation (EBF) Summer 2023 Internship Program Application
Emma Bowen Foundation (EBF) promotes a more diverse industry by recruiting promising students of color for multi-year paid internships at some of the nation's leading media and tech companies.
EBF BENEFITS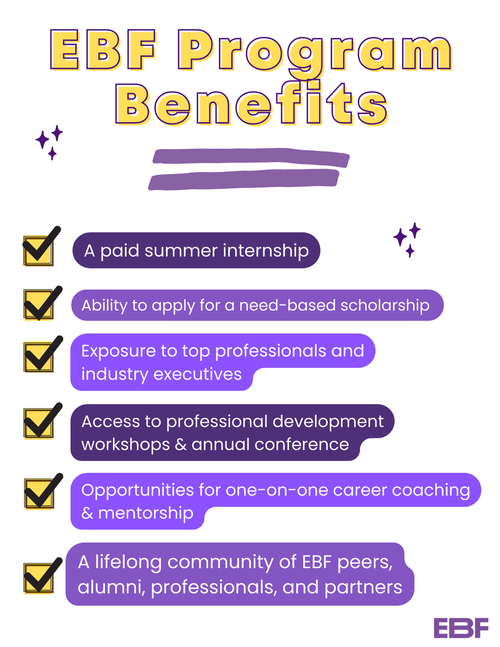 Whether you're interested in being a producer, a journalist, a web developer, an engineer, a business executive, a PR agent, a sales representative, or any other career in media or tech, the EBF Internship is here to help you get your start. If selected, you will have the opportunity to immerse yourself in these organizations so you can learn, grow and put yourself on the fast-track to career success.
You are eligible to apply for an EBF Internship if you meet ALL of the following:
Are a student of color (Asian, American Indian/Alaskan Native, Black, Hawaiian/Pacific Islander, Hispanic/Latino, or Multi-Racial)

Are a graduating high school senior OR an undergraduate college student (undergraduates graduating in Spring 2023 are eligible to apply)

Plan to attend or are currently a student at a four-year accredited U.S. college or university (This includes students who will transfer to a four-year accredited U.S. college or university in Spring 2023 or Fall 2023)

Have a cumulative grade point average of at least 3.0

Are interested in pursuing a career in media and tech

Are a U.S. citizen or U.S. permanent resident

Speak and write English fluently

We encourage anyone who will have graduated in or before January 2023 to sign up for our ALL Multicultural Media Professionals "AMMP" Network.
HOW TO APPLY
Before you apply, please make sure to read the internship qualifications, the items needed for a completed EBF application, and review the application process.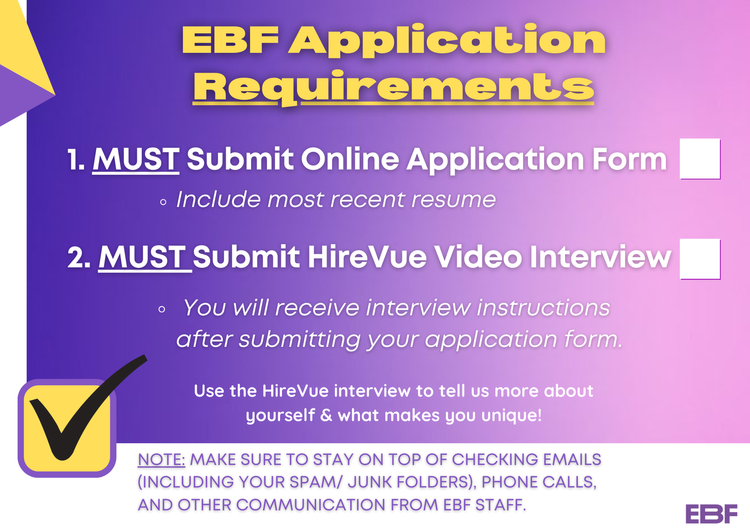 The recruitment period is from September – May 1 and you may hear from us at any point during this period as placements are made. By May 1, final decisions will be made and will have been communicated. Learn more about being a fellow and the application process timeline here.
If you have any questions, you can reach out to us at [email protected]. Additionally, please add our team to your email contacts list to help prevent EBF messages from going to spam: [email protected], [email protected], [email protected], [email protected], and [email protected].
We recommend that students apply as early as possible in the application season to maximize consideration for opportunities. Good luck!
For more information, please click here