University of Rwanda's 9th Graduation Ceremony: A Celebration of Academic Excellence. The University of Rwanda proudly announces its 9th Graduation Ceremony, a momentous occasion that will take place on Friday, November 17, 2023, at the District Stadium in Musanze town. The event will see 8,321 graduating students awarded a range of degrees from Diploma up to PhD. The event promises to be a testament to academic achievements and the pursuit of knowledge.
Among the 8,321 graduating students, 221 will graduate with diplomas, while 7,435 will be conferred with advanced diplomas and Bachelor's degrees. Besides, 627 graduating students will be conferred with postgraduate certificates, diploma and master's degrees. The graduation will also see 38 graduating students being conferred with doctoral degrees.
At college level, the College of Education (CE) boasts the highest number of graduating students with 3,471 to receive their degrees. It is followed by the College of Medicine and Health Sciences (CMHS) with 1,361 graduating students. The College of Science and Technology comes third with 1,323 graduating students, while 1,080 are from the College of Business and Economics (CBE). Then the College of Agriculture, Animal Sciences and Veterinary Medicine and College of Arts and Social Sciences (CASS) follow with 550 and 416 respectively.
The graduation will also mark the award of degrees to 127 international students from 20 nationalities, namely Cameroon, Eritrea, Ethiopia, Kenya, Nigeria, South Sudan, Sudan, Tanzania, Democratic Republic of Congo (DRC), Malawi, Burundi, China, Mali, Namibia, Peru, Sierra Leone, Somalia, Uganda, Zambia and Zimbabwe.
This is again another occasion to celebrate success and hard work from students and staff who demonstrated their utmost commitment along the learning and teaching journey. We also need to point out that this graduation has nothing extraordinary but a function meant to fete brilliant achievement by students and staff and tremendous support from parents and guardians for their contribution towards the academic success of these graduating students.
The University of Rwanda invites all media outlets to join us in celebrating the achievements of our graduates and the strides we are together making in higher education. This ceremony marks a significant milestone in our commitment to shaping the future leaders of Rwanda and beyond.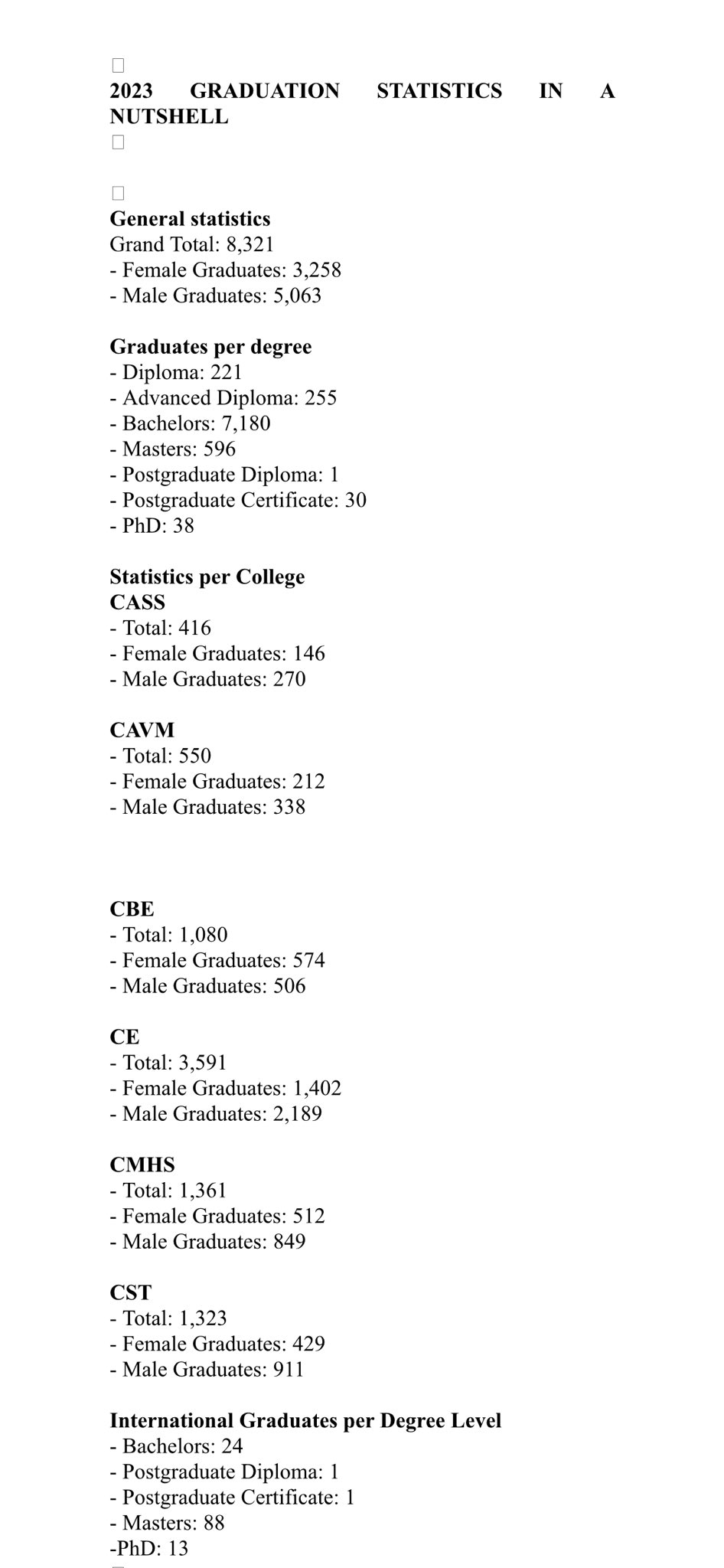 For media inquiries, please contact:
Kabagambe R. Ignatius0783008764
Head of Corporate Communications & Spokesperson University of Rwanda
Email: [email protected]
X @Kabagambel